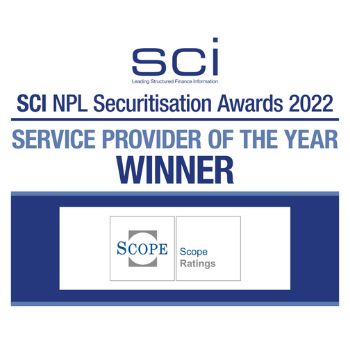 Scope wins Service Provider of the Year award
Scope Ratings has been named Service Provider of the Year by Structured Credit Investor (SCI), a leading news and data provider focused on securitisation and structured finance.
The award was presented to David Bergman, Scope's Head of Structured Finance, following SCI's 4th Annual NPL Securitisation Seminar in Milan on 27 June. Bergman and Paula Lichtensztein, a senior representative of Scope's structured finance team, both spoke on expert panels at the event.
"We are delighted that SCI has recognised our achievements in structured finance. This award acknowledges the deep and broad expertise we have developed across NPLs and a wide range of structured finance asset classes over the years," David Bergman said.
In selecting Scope for this prestigious award, SCI acknowledged the rating agency's strong reputation in the international structured finance market and recognised Scope's leading NPL securitisation franchise. Scope now rates approximately 55 public primary or secondary NPL securitisations across Italy, Cyprus, Spain, Portugal, Ireland and the UK, as well as non-public credit assessments or ratings on 30 securitisations and senior financings in these markets as well as France.
Beyond NPLs, Scope has built broad expertise across a wide range of securitisation asset classes including CMBS and CRE ABS, CLOs, SMEs, Consumer and Auto ABS, RMBS and esoteric markets.
Scope is Europe's leading rating agency with a pan-European footprint, offering an alternative and distinctively European perspective on credit risk.
See all SCI NPL Securitisation Award 2022 winners here