Italian NPL collections: six-month judicial proceeds and DPOs below pre-Covid levels
Taking the last six months, judicial collections and DPOs were lower than the six months before the pandemic. Note sales have followed a more volatile path but the trend has been upward as servicers rely increasingly on this strategy to generate cash.
Note sales represented just 17% of total monthly collections in September, plunging from August's peak of 41% evidencing the unpredictability of this recovery strategy. A similar drop was seen in July 2021.
Overall collections on Italian NPL securitisations increased by 58% between August and September. Compared to previous years, September volumes were 22% lower than September 2021 but 5% higher than in 2020.
Total gross proceeds of pre-Covid originated transactions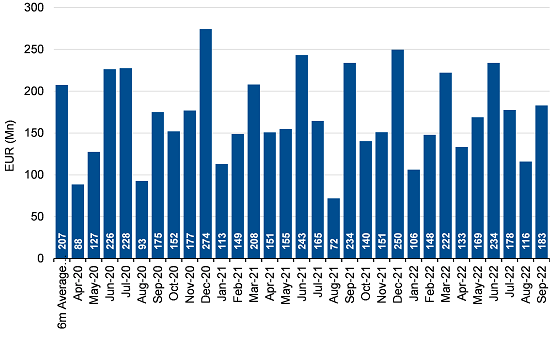 Source: Scope calculations on servicing reports
Download the latest Italian NPL monthly here.
Access all Scope rating & research reports on ScopeOne, Scope's digital marketplace, which includes API solutions for Scope`s credit rating feed, providing institutional clients access to Scope's growing number of corporate, bank, sovereign and public sector ratings.