Spain's fiscal outlook: deficit reduction relies on growth, stronger fiscal policy framework
Spain's general government deficit will fall this year and next on short-term cyclical factors, but public finances remain vulnerable to sluggish growth, higher interest payments and welfare spending without a tighter fiscal framework.

By Jakob Suwalski, Director, Sovereign Ratings
We expect Spain (A-/Stable) to reduce its general government deficit from 7% of GDP in 2021 to 4.5% of GDP this year, which would be 0.5 points below the government's forecast. The government has benefited from growth in tax revenue as the economy rebounded from the pandemic.
Grants from Next Generation EU funding, relatively modest exposure to the energy shock and a decline in pandemic-related spending have also offset higher-than-budgeted expenditure to help business and households cope with the energy crisis.
Further deficit reductions will be harder to achieve.
Spain's fiscal policy framework lacks a medium-term component that reconciles encouraging economic growth and the reduction of the structural deficit with the goal of putting public debt-to-GDP firmly on a downward trend. With regional and general elections due next year, risks are growing that the government will not undertake necessary reforms. More polarised politics could shift the focus of fiscal policy to short-term issues.
Spain's interest expenditure and primary balances 2014 – 2027F
General government; % of GDP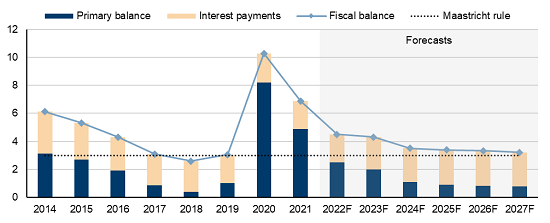 Source: IMF, Spanish Ministry of Finance, Macrobond, Scope Ratings
The deficit will stabilise at around 3.2-3.5% of GDP in the medium term, above the 3% limit in the Stability and Growth Pact, unless the government introduces additional measures to enhance revenues and/or cut expenditure to help offset higher interest payments, the long-term upward trend in age-related spending and important near- to medium-term implications of current fiscal policy.
Energy-related spending among five factors putting fiscal consolidation at risk
First, energy-related spending remains a drag on fiscal consolidation despite continued economic growth.
The government is yet to clarify its detailed energy-related spending for next year, but we estimate the additional annual cost at around 0.5% of GDP compared with current measures at around 1.3% of GDP. This additional expense should be broadly offset by Spain's better-than-budgeted revenue position at end-2022, resulting in a deficit of 4.3%, above its target of 3.9% for 2023. However, if all the measures were extended for the whole year, the deficit would widen to around 5.0%.
Secondly, next year's budget is based on optimistic economic assumptions. The government assumes real GDP growth of 2.1% in 2023 compared with our recent forecast of 1.3%. The IMF forecasts 1.2% and the European Commission (EC) 1.0%.
The government forecasts around a 6% increase in tax revenue next year, supported by a new wealth tax, temporary windfall taxes on banks and energy companies, and a high level of social security contributions. This is unlikely in our view given further weakening in consumer and business confidence.
Growth in VAT and PIT collection will likely lose momentum, hence the uncertainty over forecasts for overall growth in tax income, as the Bank of Spain has highlighted.
Thirdly, the government is counting on Spain's autonomous regions to narrow their aggregate deficit to 0.3% of GDP from 1.0% in 2022. The target looks ambitious. Central government has shielded the regions' finances from the pandemic, but they still run structural deficits.
Fourthly, Spain's public expenditure is currently on a clearly upward trend, reaching unprecedented levels according to the draft budget for 2023.
Investment and operating expenditure are on the rise
To be sure, the government's focus on investment spending is credit positive. Even if EU funds are excluded, investment would be roughly a third more than in 2022. More state investment in energy, from renewable infrastructure to the expansion of gas terminals, is likely as is increased spending on security and the environment in the context of Russia's war in Ukraine and the threats from climate change.
However, operating spending is also on the rise, visible in growing healthcare, social-security budgets and rising pension expenditure tabled for 2023. Spain's inflation-index pensions will rise by around 8.5% in 2023, putting further pressure on long-term fiscal sustainability without offsetting measures, such as higher penalties for early retirement to reduce the gap between the effective and the legal retirement age.
Finally, rising interest rates are reducing indebted governments' fiscal flexibility across Europe. In Spain's case, debt-servicing costs will rise from a low level of 2% of GDP in 2022 to around 2.5% by 2023-24, but remain below the historical average, while the country has a favourable debt profile.
In addition, Spain is yet to apply for its EUR 70bn (around 6% of GDP) share of loans for its Recovery Plan. Considering Spain's average cost of debt was negative in 2021, the government has an incentive to apply for the relatively cheap loans though they would have conditions attached and represent increased borrowing. The EC allows members to request the loans until July 2023.
In the short-term, the government can take advantage of EU funds to fund record-high public investment without worsening debt-to-GDP, which we forecast at around 115% at end-2022 before falling to around 112% at end-2023. However, if tax revenues disappoint, Spain will struggle to contain the budget deficit, ensuring that debt-to-GDP will not improve in 2023.