Schuldschein: market buoyant as Porsche leads surge in jumbo deals; ESG-linked issuance continues
The Schuldschein (SSD) private-debt market is on course for another busy year, if not as strong as the post-pandemic comeback in 2022. Jumbo issues and ESG-linked deals have featured in first-half placement or marketing of around EUR 12 bn in new debt.
By Sebastian Zank, Managing Director, Corporate Ratings
However, for the full year, total issuance may fall short of the record amount of EUR31bn from about 160 transactions in 2022 as many frequent issuers have already tapped the market, while recent renewed stability on public bond markets is attracting issuers again. The early-year pricing advantage of SSD deals compared with corporate bonds has faded.
First half placement volume is about EUR 12bn (based on closing dates) from around 50 SSD deals, with another EUR 1bn from more than 10 issuers expected to be closed before the summer break.
Second-half momentum in the private-debt market will depend on there being a high volume of small-ticket deals, though overall issuance should easily exceed the around annual EUR 20bn in deal volume in 2020 and 2021, albeit from a significantly lower number of transactions.
Figure 1: Schuldschein issuance remains robust, but set to fall from 2022 record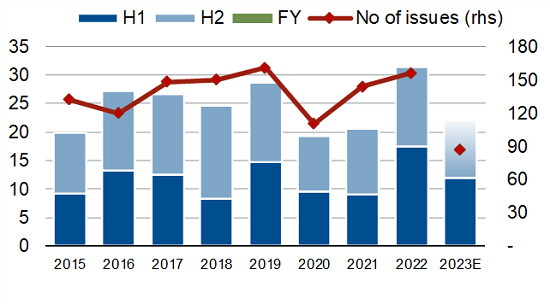 Sources: Bloomberg, Refinitiv, Scope Ratings
Among the big issuers this year, Porsche Automobil Holding SE has set the pace, with a record EUR 2.7bn deal, with large deals distinguishing activity this year compared with the predominance of small transactions in 2022.
Other large SSD deals include EUR 850 from Fresenius SE & Co KGaA, EUR 500m from Rhenus SE & Co. KG, EUR 450m from Sixt SE and EUR 400m from Danish Crown.
The Schuldschein market retains its appeal for ESG-linked deals: more than 40% of deals are coupled with ESG features, either in the form of a coupling of coupons to the achievement of ESG-related KPIs or in the form of a green Schuldschein, equivalent to roughly EUR 5.2bn in deals so far.
There is in contrast with the public bond market where only roughly a fifth of deals brought to the market is linked to ESG-features, which represents about 30% of the placed volume. The difference reflects the simpler loan documentation and leaner marketing required for SSD issues.
Figure 2: ESG-linked deals remain in demand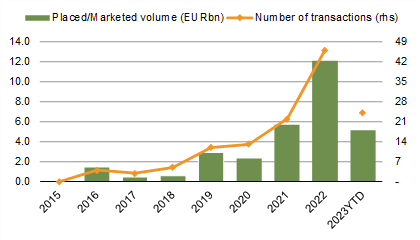 Sources: Scope Ratings
Figure 3: Nearly half of 2023 YTD issuance is ESG-linked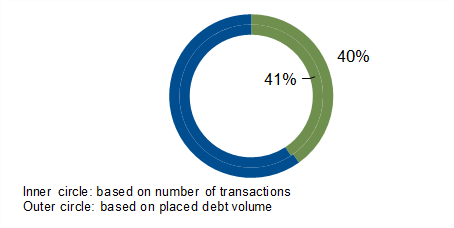 Sources: Scope Ratings

French, Belgian issuers absent from market after surge in deal making last year
However, another trend is the decline in proportion of debut issuers coming to market. This is in turn is related to what is likely to be just a pause in the internationalisation of the SSD segment which until a few years ago was dominated by companies from Germany, Austria and Switzerland.
Issuers from France and Belgium have largely been absent this year, apart from cheese maker BEL Group. The trend partly reflects that French and Belgian companies were active in 2022: Avril SA, Bel Group, Keolis SA, Iliad SA, Korian SE, Plastic Omnium SE, Ubisoft SA (all French) and Azelis Group, Etex Group, Econocom Group, Besix Group, UCB SA (all Belgian).
Figure 4: SSD debut issuance falls sharply
Percentage share of number of transactions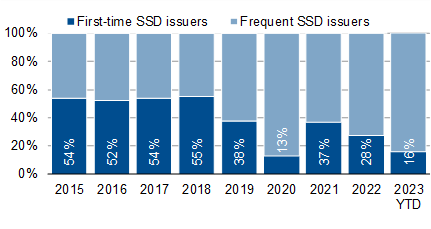 Sources: Bloomberg, Refinitiv, Scope Ratings
Figure 5: German issuers to the fore so far in 2023
Percentage share of number of transactions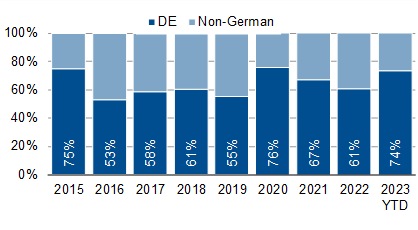 Sources: Bloomberg, Refinitiv, Scope Ratings
However, investors and French issuers are also digesting the fate of Orpea SA, the care-home operator undergoing a comprehensive financial restructuring, which had frequently tapped the Schuldschein market.
We expect the fall-out from the Orpea saga should be temporary as the market has quickly bounced back from previous high-profile defaults or default events among SSD issuers.
Nonetheless, other news about defaults and possible refinancing concerns are somewhat burdening the sentiment for new issuance. Germany's well-known fashion retailer Peek & Cloppenburg KG which still had two SSD tranches issued in 2017 on its balance sheet opened insolvency proceedings under its own management ('Insolvenzverfahren in Eigenverwaltung') in line with German Insolvency Code in March 2023. Swedish real estate company Samhallsbyggnadsbolaget i Norden AB which had placed a EUR 100m SSD in June 2022 and Germany's construction company Helma Eigenheimbau AG that needs to refinance two SSD tranches in Q3 2023 have surprised the market with refinancing concerns.
However, in light of the overall debt volume from such deals compared with the big-ticket issues affected by the financial troubles at Austrian, South African company Steinhoff International Holdings and the UK contractor Carillion PLC in 2017 and 2018, the current worries are unlikely to lead major disruptions in the Schuldschein market overall.