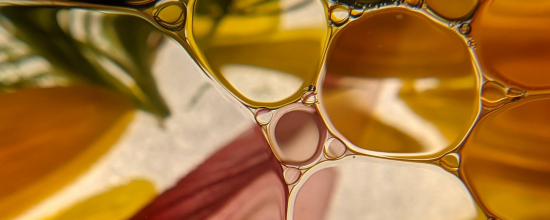 BP: a new CEO will inherit a financially sturdy company, with strategic challenges to meet
BP PLC is in rude financial health notwithstanding Bernard Looney's unexpectedly shortened tenure as CEO, but his successor may have to revisit vexatious questions about the oil and gas giant's long-term strategy for addressing the energy transition.
Looney, who quit on Tuesday over "not fully transparent" disclosures over previous relationships with colleagues, was instrumental in driving BP's move away from fossil fuels towards cleaner energy. BP said in 2020 that its goal was to be a "net zero" company by 2050, before backtracking slightly in February this year when it announced larger investments in oil and gas than previously expected, following record-setting profits across the sector in the previous two years.
The recent spike in oil prices, along with BP's strong financial footing, eases the near-term task of managing the business for Looney's interim successor and current CFO Murray Auchincloss.
Figure 1: Looney leaves behind better profit, lower leverage (BP's EBITDA, leverage 2016-2022)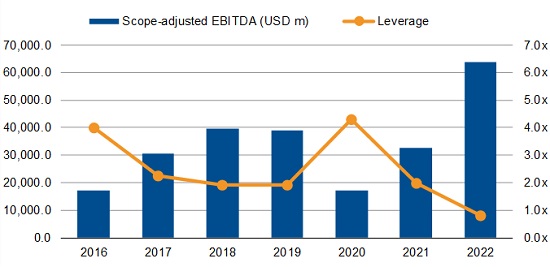 Source: company data, Scope
The UK-based energy firm's profitability hit record highs in 2022, resulting in low leverage, even after accounting for generous shareholder remuneration. While 2023 results will not match last year's heights, they will be strong, promising a smoother period for a new CEO in the next 18 months than the one Looney faced in 2020 and 2021 with the pandemic and plummeting energy prices.
However, while on the financial side, things are going well for BP as it is for other integrated oil and gas companies (IOCs), on the business side, the clean energy question continues to loom large.
European IOCs like BP and Shell, after initially committing to an aggressive move away from oil & gas production, have gradually walked back on some of the strategy. In contrast, US majors like Exxon and Chevron have stuck to their core oil & gas business, proving less willing to invest in renewable energy.
Managing energy transition, commodities cycle remain core challenges
For all his success in setting BP on course to being a greener company, Looney still faced the challenge of fulling convincing investors of the viability and financial upside of the pivot to green energy, given potential returns are many years away. As a result, BP's share price, the barometer by which most CEOs tend to be judged, has languished behind those of other IOCs.
A new CEO at BP faces two main questions.
First, how aggressively should BP pursue the renewable-energy transition? There are no easy answers for the CEO. Move too fast, raising the ire of investors counting on BP's generous dividends and share buybacks, could lead to an early and ignominious exit. But if BP starts to drag its feet, a new CEO risks increasing scrutiny from regulators and political leaders as much as environmental activists.
Second, there is perennial issue of how to navigate the next trough in oil prices. Will the new CEO be as open to investing in low-return, and relatively unproven green technologies, when the cash bonanza from oil and gas is not as plentiful as in recent years?
BP has a long history of promoting life-long employees like Looney to the CEO spot, which combined with the firm's current deep and experienced top management team, could mean another internal candidate ascending to the top job.
With that in mind, an abrupt change in strategy looks unlikely. But it is not yet clear how long-lasting Looney's strategic legacy will prove.
Make sure you stay up to date with Scope's ratings and research by signing up to our newsletters across credit, ESG and funds. Click here to register.