German housing bubble unlikely to burst; prices could swing either way depending on banks, economy
German mortgage rates have risen to levels not seen in a decade. We discount a collapse in house prices though this will depend on the economy. If banks allow buyers to max out their debt capacity with riskier debt, prices could even be further stretched.

By Reber Acar, Associate Director, Covered Bonds
German households are being squeezed. Long-term mortgage rates have hit 3% just as raging food and energy inflation is taking money for housing off the table. At the same time, housing affordability is severely constrained: house prices have risen 80% since rates were last this high back in 2013 but income has grown by just 25%.
Long-term mortgage rates in Germany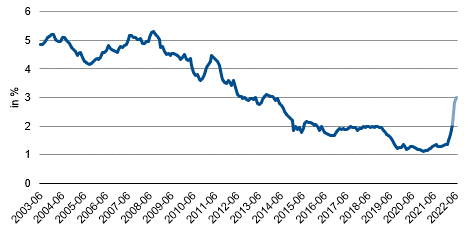 Source: Bundesbank, Interhyp
But our base case is for declining transaction numbers and flatlining nominal prices, hence declining in inflation-adjusted terms rather than a collapse. First, because the under-supply of housing in Germany prevails, particular in metropolitan areas. As overall inflation also pushes up housing construction costs, building permits are starting to decline. This is unlikely to change in the near term. Another factor supporting prices is that many German borrowers have locked in lower mortgage rates for longer periods, making them more resilient to interest-rate increases.
This means that sellers still have the upper hand. They see no need to lower their price expectations and have the luxury of being able to wait for wealthy buyers willing to pay up. With stock prices sinking and inflation eating up the real value of savings, housing investment is once again looking like an attractive option, especially when investors speculate about their ability to raise rents or when hoping for low interest rates to come back.
Beyond that, the buyer mindset is that a house is more than a financial investment. This typically means buyers are more willing to pay above fair value for their dream house. Even if, as we wrote in a recent report, stretched affordability is making mortgages a luxury.
If, however, the German economy were to tip into severe recession leading to higher unemployment, mortgage defaults and forced sales, house prices would collapse. But we see this scenario as remote. In fact, Scope expects German GDP to grow 2.3% in 2022, albeit this is half the rate of growth forecast in December 2021. Downside risk remains, not least the risk of Russian counter-sanctions leading to interruptions of gas flows into Germany before the currently envisioned phase-out, as well as trade disruptions caused by China's hardline zero-Covid policy, which will hold back German exports.
The actions of banks and banking supervisors could be key determinants of house prices. If banks loosen mortgage underwriting standards, house prices could even continue rising. Looser standards could see households, already suffering the effects of stretched affordability, lured into taking on riskier debt in the form of higher LTV loans with lower amortisation and/or shorter fixed-interest periods.
Prospective homeowners tempted to max out debt-service capacity via debt-fuelled house purchases challenges notions of sustainable lending and could create significant financial stability risks. BaFin can introduce mortgage lending limits to counteract looser underwriting, a move long supported by Scope and urged by the IMF in its latest report. BaFin has so far declined to act.
We believe the precautionary use of lending limits is warranted. The authorities should modify the law while in the interim the supervisor should at least provide clear guidance on prudential lending standards in the current market environment. Authorities should also accelerate the closure of data gaps and add income-based measures into their toolkit.