French banks: sound credit profiles resilient against tighter financial conditions
Pressure on French banks' core profitability from tighter credit conditions is not denting their credit profiles. The recent round of results was solid and the prospect of better macroeconomic conditions in Europe is credit positive for the rest of 2023.
"Asset quality is holding up, and the build-out of accumulated provisions will protect banks' profitability against a moderate increase in bad loans," said Nicolas Hardy, deputy head of Scope's financial institutions team. "However, unlike for some European peers, rising interest rates have not translated into windfall profits for French banks. Revenues from domestic retail activities are under pressure because liabilities have repriced more quickly than assets."
Quarterly net income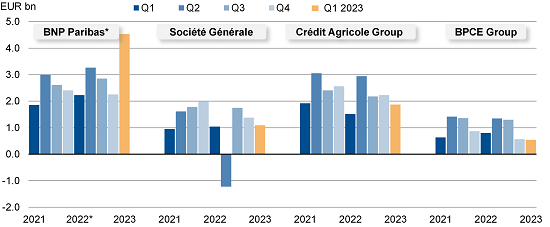 *Not restated. Exceptional items include EUR 2.947bn capital gain from the sale of Bank of the West.
Source: banks, SNL, Scope Ratings
Hardy says this gradual rebalancing will last until 2024 and that while it is impacting revenues now, it will protect borrowers in the future. "Overall, credit risk should not change materially. Strong business diversification mitigated pressure on interest revenues in the first quarter. Loan production is slowing rather than contracting and cost of risk is well controlled at low levels."
Mortgage demand is moderately declining but remains high despite the rapid increase in interest rates, while corporate lending remain stable at high levels. Credit impairment charges were modest in Q1 and mainly related to Stage 3 loans. As economic prospects have stabilised, there has been no major shift in provisioning policies.
"The stock of problem loans has plateaued or improved thanks to proactive management and limited new NPL formation and there are no signs of a pronounced trend reversal," Hardy said. At around 2%-3%, French banks' reported NPL ratios are in line with the European average, with modest changes relating to specific files. The percentage of Stage 2 loans is also controlled, in the 8%-13% range on average.
Operating expenses are contained, below inflation for most banks and growing more slowly than operating revenues.
French banks actively tapped the market for capital instruments at the start of the year and, after a turbulent period, were back in the market in May and June with Tier 2 instruments. The bank do not face material refinancing risk anyway in coming quarters considering the limited amount of maturing or callable instruments.
Deposit outflows and the quality of deposit bases were sensitive issues for investors in Q1. French banks' customer deposit bases are stable, largely retail and insured or guaranteed, while good market access is another credit strength, as evidenced by the already high percentage of wholesale debt issued
Download the full report here.
Scope has subscription ratings on the following French banks. To view the ratings and rating reports on ScopeOne, Scope's digital marketplace, or to register, please click on the following links:
Banque Fédérative du Crédit Mutuel