TLTRO repayments – more to come
Banks are repaying just EUR 296bn of TLTRO funding this week, the low end of expectations, raising the question as to whether the ECB may have to consider other forms of quantitative tightening as it normalises its monetary policy stance.

By Dierk Brandenburg, Head of ESG and Credit Research
Given the uneven distribution of excess reserves among euro area banks, it is unlikely that all TLTROs will be repaid in full ahead of their scheduled maturity dates, especially in Italy or Spain. Fears of a volatile year-end in money markets and concerns about deposit outflows as the ECB lowers the level of excess liquidity in the system will also prompt banks to hold onto the excess liquidity they have, as a precaution.
Nevertheless, early repayments are likely to pick up again in December and March as the regulatory value of TLTRO funding keeps declining. From year-end, the EUR 1.3trn TLTRO maturing in June will no longer qualify as term funding for the purposes of Net Stable Funding Ratio (NSFR) calculations and from March TLTROs will no longer support the Liquidity Coverage Ratio (LCR) calculation. Thus, we would expect more repayments by year end and in early 2023.
This development will put downward pressure on banks' reported NSFR and LCR ratios, though for most banks these are well above regulatory minimums. Thus, especially for the large euro area banks, we do not consider it a weakness if their funding ratios decline. We would also not expect lower excess liquidity to negatively impact lending growth per se, though higher rates and the economic slow-down may well lead to tighter credit standards, for example in mortgage lending.
Banks have pre-emptively issued record amounts of covered bonds this year to refinance TLTROs, a trend that is likely to continue into next year. However, not all banks have the required collateral and will need to issue senior unsecured funding – where credit spreads have materially widened this year – to replace maturing ECB funding.
EUR covered bond market issuance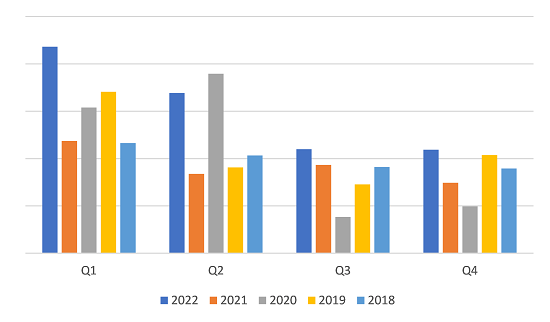 Source: Bloomberg, Scope calculations
The withdrawal of excess liquidity will put greater pressure on funding spreads for smaller banks and banks in peripheral countries that do not enjoy unfettered market access, like in Greece. These banks will face a significantly higher cost of liquidity going forward. Thus, the ECB may yet have to devise follow-up solutions, albeit on a much smaller scale.
Access all Scope rating & research reports on ScopeOne, Scope's digital marketplace, which includes API solutions for Scope`s credit rating feed, providing institutional clients access to Scope's growing number of corporate, bank, sovereign and public sector ratings.